As a full moon shines above you, you don't notice a she-cat pad up to you. At first you are frightned by the sudden appearance, but the moon calms you. "You like gazing at the moon as well?" The she-cat asks you. "Oh. I forgot to introduce myself. Hi. I'm Russetstar and welcome to Moonclan.
No one really likes them, but they have to be followed!
•Please be active
•You can have as many cat as you can, but remember to keep them all alive by RPing.
•No killing other's cat without their permission.
•You can have a crush without permission
•You have to tell me if you have a mate
•Please, keep this roleplay child friendly, 'fade to black' when mating and birthing. I don't want to go online and see this topic locked for those reasons
•You can swear or curse, use the words used in the warriors. (Book) (like Mouse-brain, flea-brain, fox-dung or something like that)
•Please, read some books which are written by Erin Hunter before joining
•Please keep the genders even, a few off is fine, but I don't wish to see 10 she-cat and 2 toms.
•I know everyone wants to have high ranks, but I will not give those ranks to the ones who is not active and those who listed in the form. I am not going to give you except I want to or I'll run a poll and see the results.
•No unrealistic colors, like pink fur with spikes sticking out of it, etc. but I will accept orange eyes or red eyes if you listed it to join Darkclan afterwards or come from Darkclan.
•Please follow these rules, any serious breaking-the-rules issue, you may receive a ban or a warning.
Please fill in the joining form!
Code:

Name:
Personality:
History:
Rank:
Desired rank:
Other:
Appearance:
Age:
Gender:
Kin (sibling):
Crush:
Mate:
Kits:
The Clan
Leader:
Stormstar:Rose626: 1 life left
Deputy:
Russetclaw:Rose626
Medicine Cat:

Medicine Cat apprentice:

Warriors:

Apprentices:
Gingerpaw:Rose626
Flamepaw:Rose626
Redpaw:Rose626
Queens:

Kits:

Elders:

Loners:

Rouges:

Kittypets:

Key:(Tom | She-cat)
< She likes him
>He likes her
=They like each other
<3 They are mates
</3 They are ex-mates
-
Key:(Mentor | Apprentice)
- Current
: Future
-
Allies
Fallenclan
Cloudclanclan
Starclan
Enemies
the Dark Forest
Darkclan
Brokenclan
Prophecy
None yet
Last edited by rose626 on Tue Jul 29, 2014 4:42 am; edited 1 time in total
The Territory
This is what their territory looks like. Filled with trees, tall, but not so close together.
Camp
Here is the leader's den. It is in the side of a rock wall and there is a ledge just outside where the leader makes anouncements. It is next to the camp entrance and the warrior's den.
This is the warrior's den. It is close to the nursery and the camp enterance. There is a little tunel off to the side where the apprentice's sleep which has an entrance on the other side of the nursery.
This is the nursery, it is higher than the warrior's and apprentice's den and the slop is a little steep if you don't know hoe to climb it.
This is the apprentice's den. There is a little tunnel that connects it to the warrior den which runs underneith the nursery.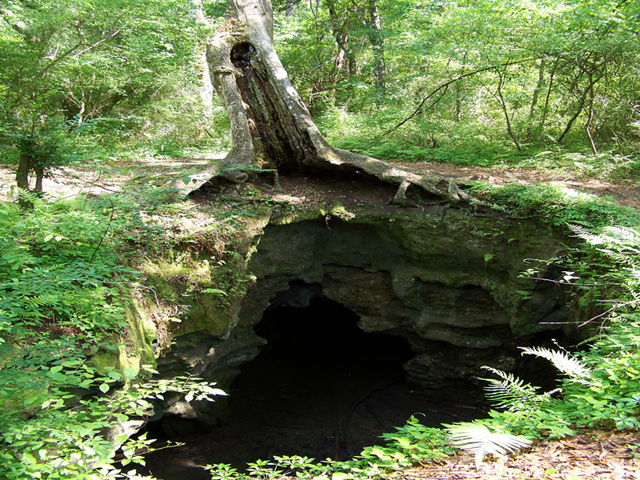 This is the medicine cat den. It is next in between the apprentices den and the elder's den.
This is the elder's den. It is cozy inside and stops the elder's getting wet when it rains. It is net to the medicine den and the camp entrance.
This is the camp enterance. It is laced with thorns so that larger animals won't get through with out getting hurt.
Name: Stormstar
Personality: A gentle and caring leader. But has trouble giving simpathy.
History: Normal clan history. Was going to leave Russetclaw to die before someone convinced him to take her into the clan. he then got too close to the Cloudclan medicine cat and she had two kits which he refused to take care of so she dumped them at the Darkclan border. After his pervious deputy died of geen cough, he randomly picked Russetclaw as his new deputy.
Rank: Leader
Desired rank: Starclan member(eventually)
Other: No one knows he is on his last life other than the medicine cat.
Appearance: Up
Age: 127 Moons
Gender: Tom
Kin (sibling): Dead
Crush: No
Mate: No
Kits: Bloodkit and Tigerkit
Name: Russetclaw
Personality: Sweet, caring, loyal and calm
History: She was a loner named red. When she was three moons old, her mother was killed by her father and her father tried to kill her, but she escaped by hiding in a fox den. After a couple days, she ventured out and started looking for food. Moonclan found her and they took her in, giving her the name, Russetkit. When she was a warrior, she had four kits. One was a still born that she named Foxkit, and then three others that she named Redkit, Gingerkit and Firekit. When they became apprentices, she became deputy
Rank: Deputy
Desired rank: Leader someday
Other: Will become leader shortly as I have a plan for Stormstar
Appearance: Up
Age: 27 moons
Gender: She-cat
Kin (sibling): None
Crush: Nope
Mate: Dead
Kits: Redpaw, Gingerpaw, Firekit
Name:Gingerpaw
Personality: Sweet, gentle and kind. She loves helping queens with their kits and someday wants some of her own.
History: Was bor to Russetclaw. When she became an apprentice, her mother became deputy.
Rank: Apprentice
Desired rank: Queen
Other: Nope
Appearance: Up
Age: 8 moons
Gender: She-cat
Kin (sibling): Firekit, Foxkit
Crush: Looking
Mate: Later
Kits: Later
Name:Flamepaw
Personality: Fiercely loyal and fond of pranking. He is rather cheeky and is not of Stormstar's good side.
History: Same as Gingerpaw's
Rank: Apprentice
Desired rank: Deputy
Other: Nope
Appearance: Up
Age:8 moons
Gender: Tom
Kin (sibling): Gingerpaw, Redpaw
Crush: None
Mate: None
Kits: None
Name:Redpaw
Personality: Shy and doesn't talk very much/ Always does what she is told.
History: Same as Firepaw
Rank: Apprentice
Desired rank: Warrior
Other: Will die of a fox attack soon.
Appearance: Up
Age: 8 moons
Gender: She-cat
Kin (sibling): Gingerpaw, Firepaw
Crush: Nope
Mate: Nope
Kits: Nope
---
Permissions in this forum:
You
cannot
reply to topics in this forum